PALESTINE AND ISRAEL APPROVES EGYPT'S PROPOSAL TO EXTEND CEASEFIRE FOR 24 HOURS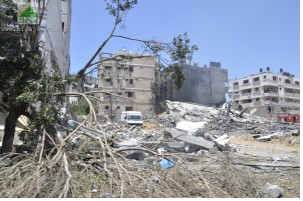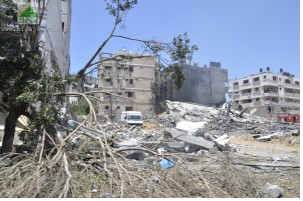 Gaza, 23 Shawwal  1435/19 August 2014 (MINA) – Palestinian and Zionist Israeli delegations  approved Egyptian proposal to extends of the ceasefire for 24 hours starting on Tuesday, one of Hamas leader, Ezat Al Rishq, said Monday night in Gaza.
"The extension of the ceasefire for 24 hours as proposed by Egypt to give more chance to complete the points of agreement," said Rishq quoted Mi'raj Islamic News Agency (MINA) correspondent in Gaza.
Meanwhile, members of the Palestinian delegation in Cairo, who is also the vice Chairman of Hamas Political Bureau, Dr. Mousa Abu Marzouk, said the formal agreement in the indirect talks with Israel mediated by the Egyptians, has not been achieved yet.
Monday's agreement was reached as gaps on key issues continued to trouble efforts to achieve a long-term deal between Israeli occupation regime and the Palestinian armed groups in the Gaza Strip, dominated by Hamas, which would allow reconstruction aid to flow in after five weeks of fighting.
The month long war ended more than a week ago when Egypt secured a three-day truce, extended by another five days that expired on 21:00 GMT Monday.,Aljazeera reported.
A Palestinian official close to the talks in Cairo said the latest extension would give both sides time "to complete the negotiations".
An Israeli occupation regime official and a security source said in Jerusalem  that "on Egypt's request the ceasefire shall be extended by 24 hours to allow further negotiations."
In Gaza a senior Palestinian official said agreement had been reached on all but two points drafted by Egypt for a wider deal, including opening Gaza's border crossing to allow a freer flow of goods, and extending maritime limits in the Mediterranean Sea.
Issues hat are still not agreed upon include Hamas's demands to open a seaport and an airport, which Israeli occupation regime has said it would only discuss at a later stage, in addition to freeing Palestinian prisoners held by Israel and Hamas handing over remains of two Israeli occupation regime soldiers killed in the war, a Palestinian official said.
Hold fire
Israel made clear before the earlier truce lapsed it would continue to hold its fire as long as Palestinians did the same.
"If they shoot at us, we will respond," Israeli Occupation Regime Justice Minister Tzipi Livni, a member of  Prime Minister Benjamin Netanyahu's security cabinet, told Israel Radio. (L/K01/P04/E01)
Mi'raj Islamic News Agency (MINA)