Jama'ah Muslimin Ready to Help Solving Kashmiri Crisis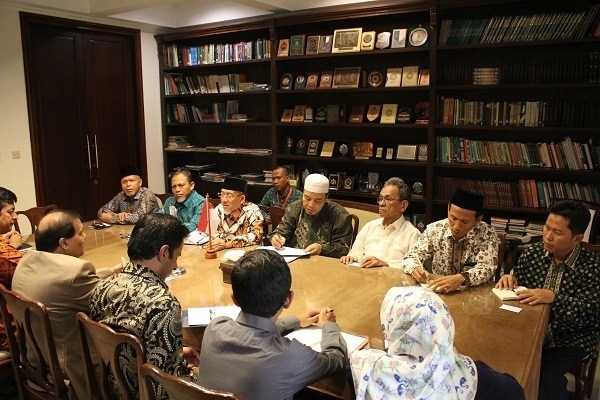 Jama'ah Muslimin (Hizbullah) Ready to Help Kashmiri Muslims (photo: special)
Bogor, MINA – A forum for the unity of Muslim Ummah, Jama'ah Muslimin (Hizbullah) expressed its readiness to cooperate and help to resolve the Kasmir crisis. It was conveyed after a visit to the Pakistani embassy in Indonesia, received directly by Ambassador H.E Abdul Salik Khan, on Tuesday, November 19th.
The support provided by Jama'ah Muslimin is solely due to the brotherhood between Muslim Ummah (ukhuwah Islamiyah). In addition, they also want to spread Islam that is full of love and a spirit of peace. Even, the grace of Islam must also be felt by non-Muslims.
The form of assistance in resolving the Kashmir conflict that will be carried out by Jama'ah Muslimin (Hizbullah) is by conducting socialization to the community, especially in Indonesia, among others, they will work with several universities in Indonesia through seminar activities.
In addition, Jama'ah Muslimin will publish a book about Kashmir which will be launched at the Tablig Akbar event in the upcoming Sya'ban 1441.
Jama'ah Muslimin will also conduct socialization to mosques in various regions in Indonesia. They have many worshipers spread throughout the area on a mosque-based basis.
The Pakistani Ambassador to Indonesia also invited to be the keynote speaker at the upcoming Tabligh Akbar Sya'ban 1441 (April 2020) event in Bogor which was attended by 20,000 participants.
Pakistan's Ambassador to Indonesia appreciated the support of Indonesian clerics for the solution to the Kashmir crisis.
It was conveyed by Ambassador Salik Khan when he received a delegation from Jama'ah Muslimin (Hizbullah) led by Imaam Yakhsyallah Mansur at the Pakistani Embassy in Jakarta on Tuesday.
"Relations between Indonesia and Pakistan have existed for a long time, namely during the Asian-African conference in 1955. Pakistan and Indonesia became one of the initiators. Until now the relationship has been maintained and harmonious, "Ambassador Salik Khan said. (T/Sj/P2)
Mi'raj News Agency (MINA)