Pakistan, Afghanistan Ulema Agree to Hold Joint Peace Talks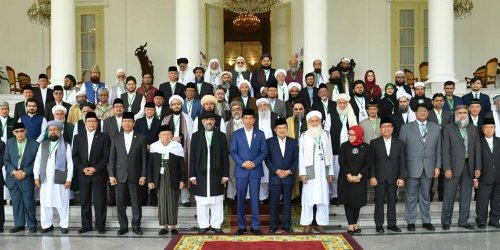 Islamad, MINA — Pakistan and Afghanistan's religious scholars (Ulema) have reportedly agreed to hold conferences in both countries to explore ways for peace and to encourage the Taliban to join the reconciliation process, according to Pakistan's Daily Times report. Monday.
According to the report, Syed Ehsan Tahiri, a spokesman for Afghanistan's High Peace Council (HPC), said Pakistani and Afghan clerics had agreed to hold joint meetings to discuss peace in Afghanistan in accordance with Islamic teachings.
The Daily Times reported that Tahiri told Mashal Radio in Kabul that Pakistan had agreed to organise the meetings in Islamabad and also join similar meetings in Kabul that would be attended by hundreds of scholars from both sides.
The comments came after Afghan, Indonesian, Pakistani and Indonesian Ulema met in Indonesia on May 11 and "appreciated and supported" President Ashraf Ghani's peace offer to the Taliban in February.
The Indonesian conference in its declaration also described suicide attacks as against the principles of Islam.
After the Indonesia meeting, Mawlawi Anwarulhaq Haqqani, head of Darul Uloom Haqqani madrassa in Pakistan, who participated in the meeting, said Pakistani religious scholars represented the Taliban at the conference.
Haqqani, brother of Mawlana Samiul Haq, leader of Jamiat Ulema-e-Islam party in Pakistan, also known as the father of the Taliban, said In a video message after the meeting that he did not let the Ulema in Indonesia mention the Taliban in their declaration.
Ghani meanwhile said that the Indonesia conference in Jakarta was a good chance for the Taliban.
Ghani also welcomed the Ulema's stance, clarity and decision and called on other Ulema members of the Islamic world to play a pivotal role in maintaining peace and eliminating terrorism.
The president has endorsed such meetings of Ulema to end the imposed battle of Afghanistan and for regional stability. (T/RS5/RS1)
Mi'raj Islamic News Agency (MINA)