Bosnia Set to Commemorate Srebrenica Genocide Victims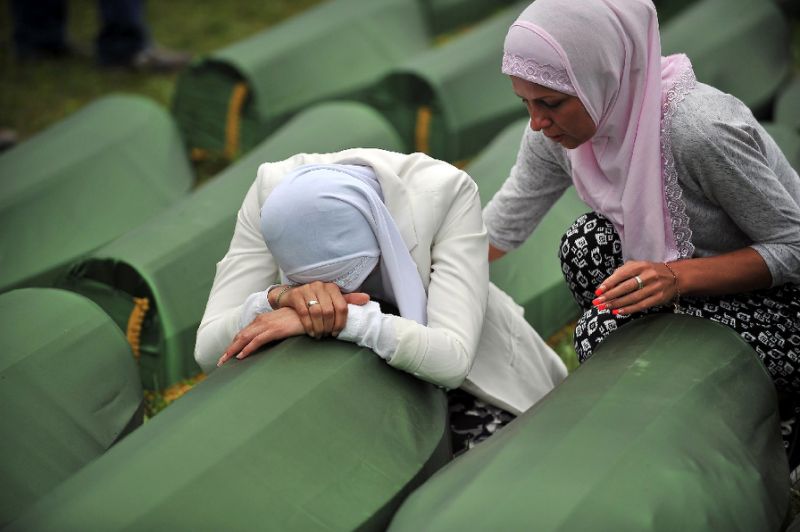 Sarajevo, Bosnia-Herzegovina, MINA — Bosnia on Wednesday will mark the 23nd anniversary of the 1995 Srebrenica genocide by burying 35 recently identified victims in a collective funeral, Anadolu Agency reported.
Each July 11, newly identified victims of the genocide — which claimed the lives of over 8,000 people — are buried in a memorial cemetery in Potocari, eastern Bosnia. Thousands of visitors from various countries will attend the funeral service and burials.
Among this year's guests will be a Turkish delegation led by Justice Minister Abdulhamit Gul as well as onetime Serbian presidential candidate Cedomir Jovanovic.
Jovanovic called the Srebrenica genocide a "shame of the official policy spreading from Belgrade in the darkest decade of our recent past."
After this year's funeral the number of burials in the cemetery will rise to 6,610.
Vesid Ibric, only 16 when he was killed, will be the youngest victim to be buried this year. Sahin Halilovic, the oldest, was 71.
The remains of the 35 genocide victims were brought by truck from the Bosnian city of Visoko on Monday morning for their final journey to Potocari.
The coffins arrived at the cemetery on Tuesday for Wednesday's service.
Remzija Dudic, who was brutally murdered by Serbian troops despite being 6 months pregnant while fleeing the forest road with her husband, is set to be laid to rest at this year's ceremony.
Commemoration
Elsewhere, hundreds of motorcyclists from across Europe held a procession from the country's capital Sarajevo to Srebrenica to commemorate the victims.
The procession — with the slogan "We did not forget, we will not forget" — passed through Sarajevo's streets, attracting interest from locals.
More than 400 bicyclists from across the country also gathered in the northern city of Bihac to honor the victims.
The group arrived at the memorial later Tuesday.
On Sunday, thousands of people from all over the world set off on a three-day commemorative peace march in the town of Nezuk near the Bosnian city of Tuzla.
More than 6,000 participants traveled about 35 kilometers (22 miles) each day to reach Potocari, spending the nights at designated wooded areas.
During the long walk, they heard details of the genocide and the memories of survivors who took the so-called "Death Road" in their attempt to flee Bosnian Serb forces during the war.
Srebrenica was besieged by Serb forces between 1992 and 1995 during the Bosnian War, when Serbian militias were trying to wrest territory from Bosnian Muslims and Croats to form their own state.
The UN Security Council declared Srebrenica a "safe area" in the spring of 1993. However, Serbian troops led by Gen. Ratko Mladic — now facing genocide charges in The Hague — overran the UN zone despite the presence of around 450 Dutch soldiers tasked with acting as UN peacekeepers.
The Dutch troops failed to act as Serbian forces occupied the area, killing about 2,000 men and boys on July 11 alone.
Some 15,000 men of Srebrenica fled into the surrounding mountains, but Serbian troops hunted down and slaughtered 6,000 of them. (T/RS5/RS1)
Mi'raj Islamic News Agency (MINA)